Mitschnagger Pils
CATEGORY: CORE RANGE CRAFT BEERS
Mitschnagger is a Pilsener brewed in Hamburg, made with hops and malt from the region. The taste starts with a powerful bitterness. Due to the high original wort, the beer is still balanced. The varying hop varieties make for floral, grassy and subtly fruity hop profile. Overall, full-bodied with a long and varied finish.

Content: 0.33 Liter
5.3% ABV / 40 IBUs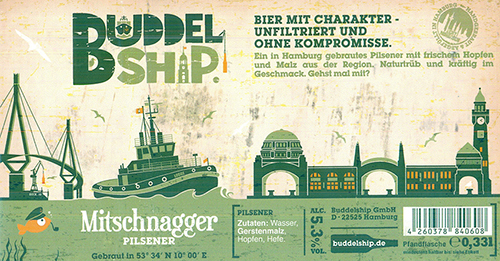 Deichbrise Lager
CATEGORY: CORE RANGE CRAFT BEERS
Buddelship Deichbrise is a cold-hopped bottom-fermented draft beer with a light 3.9% vol. The aroma hops that are consumed give this lager a fresh, fruity touch, which not only quenches the thirst for beer on warm days. Due to the low alcohol content, this beer is perfect for drivers. The fruity taste makes it a wonderful alternative to the Alster or Radler. If you don't want to drink a "mixed beer", but don't want to do without a "full-fledged beer" but with fresh fruitiness with less alcohol, you have found your new favorite beer here.

Content: 0.33 Liter
3.9% ABV / no IBUs